In general:
Dreaming of wind chimes is symbol of good omen. Wind chimes in dream announce, that you'll find some good news.
Explanation & Definition: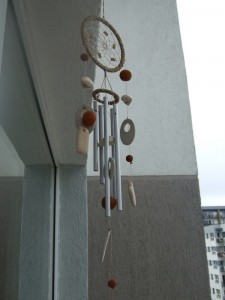 Short explanation
Wind chimes are chimes constructed from suspended tubes, rods or other objects and are often made of metal or wood. Wind chimes are usually hung outside of a building or house and are intended to be played by the wind..
Synonyms of wind chime
plural: wind chimes; related terms: windchimes, wind-chimes, windchime, windbells, windbell, wind-bell.