Association:
It is used colloquially to describe a recklessly wild, aggressive person, sometimes in conjunction with attorneys.
In general:
The wild or predatory aspect of your emotional nature, challenging emotions, emotions that it demand to be expressed.
Psychologically:
Fierce resolve to emotional understanding, emotional, aggressive acts which are harmful to the spiritual growth.
Explanation & Definition: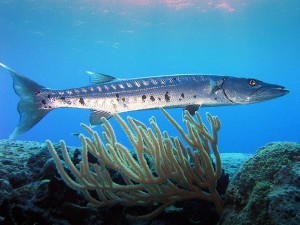 Short explanation
Any large marine fish of the genus Sphyraenus that have elongated bodies, a projecting lower jaw and displaying prominent fang-shaped teeth.
Complete definition
The barracuda is a ray-finned fish known for its large size and fearsome appearance. Its body is long, fairly compressed, and covered with small, smooth scales. Some species can reach up to 1.8m in length and 30 cm in width. The barracuda is a salt water fish of the genus Sphyraena, the only genus in the family Sphyraenidae, and is found in tropical and subtropical oceans worldwide.
Synonyms of barracuda
– ; related terms: acanthopterygian, spiny-finned fish, great barracuda, Sphyraena barracuda.