Association:
Higher self; emotions.
Question:
What feelings do I think is appropriate?
Traditionally:
European (Judeo-Christian)
– This symbol doesn't have any explanation in Christian culture.
Hindu
– blouse in a dream means that you're too modest.
Arabian (Islamic)
– blouse in a dream means you're modest.
Explanation & Definition: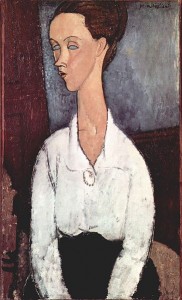 Short explanation
An outer garment, usually loose, that is similar to a shirt and reaches from the neck to the waist or below. Nowadays, in colloquial use, blouse refers almost always to a woman's shirt that buttons down the front.
Complete definition
A blouse is a loose-fitting upper garment that was formerly worn by workmen, peasants, artists, women and children. It is typically gathered at the waist (by a waistband or belt) so that it hangs loosely ("blouses") over the wearer's body. Today, the word most commonly refers to a woman's shirt but can also refer to a man's shirt if it is a loose-fitting style (e.g. poet shirts and Cossack shirts). Traditionally, the term has been used to refer to a shirt which blouses out or has an unmistakably feminine appearance.
Synonyms of blouse
noun: shirt, tunic; plural: shirts, tunics; related terms: garibaldi, guimpe, middy, middy blouse, neckline, shirtwaist, shirtwaister, top.