In general:
Dreaming of diaper by ancient Indian dream book means, that dreamer must be of good spirit. Babies diapers always have a good meaning – brings good luck.
Traditionally:
European
– To see: everything has two sides;
– If diaper is dirty: bring happiness into the house.
Arabian
– Diapers: you will be salaried.
Hindu
– To see baby diaper: you may be pregnant.
* Please, read dream meaning of feces.
Explanation & Definition: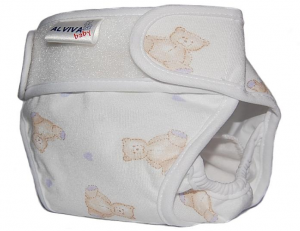 Short explanation
Diaper is a piece of absorbent material wrapped around a baby's bottom.
Complete definition
A diaper (in North America) or nappy (in the United Kingdom, Ireland, Australia, New Zealand and many other Commonwealth countries) is an absorbent garment worn by individuals who are incapable of controlling their bladder or bowel movements, or are unable or unwilling to use a toilet. When diapers become soiled, they require changing; this process is often performed by a secondary person such as a parent or caregiver. Failure to change a diaper on a regular enough basis can result in diaper rash.
Synonyms of diaper
verb: swaddle; noun: napkin, nappy; plural: napkins, nappies, diapers; diaper as verb: diapers – 3rd person singular present; diapered – past tense; diapered – past participle; diapering – present participle.