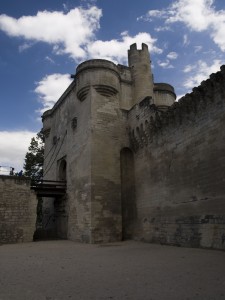 In General:
Drawbridge that spans a moat of a castle and is lowered, and if you then walks across it, points to open your ears out with a related project. A drawbridge that is not lowered, indicates impending trouble.
Psychologically:
The nightmare does not reach its destination because it is too late. The saving castle is not scaled, because the bridge is raised. If the bridge is entered, but the soul has apparently mastered the task.
Traditionally:
Arabian
– To go across drawbridge: expectations will disappoint you.
European
– means that one will have to persist despite obstacles an unexpected journey;
– To see: they will be entirely on the goodwill of another in need of something.
Hindu
-To see drawbridges: your plans can be between public authorities.
* See also other dreams meanings of bridge, castle, river and trench.
* A drawbridge is a type of movable bridge typically associated with the entrance of a castle surrounded by a moat. The term is often used to describe all different types of movable bridges, like bascule bridges and lift bridges.
* bridging, bridged, span, castles, moats…