Association:
Cooking equipment or weapon; basic equipment.
Question:
What should I wear? In what way do I return to the simple things in life?
In general:
Frying pan can be understood as similar, especially when something is in it.
– The empty pan on the other hand often announces an impending disappointment or loss.
– If you fry something in it that will let simmer for another in order to achieve more with him.
– For Freud: the pan has female-sexual meaning.
Traditionally:
European (Judeo-Christian)
– fryiing pan in a dream: you have or get a wife;
– see a blank: disappointment;
– see over the fire in the preparation of food: gain;
– to cook a meal: a sign of a bad argument;
– a dirty or clean, wash: one will be satisfied with a company.
Hindu
– frying pan in a dream: turn not away from your path.
Arabian (Islamic)
– Loss of any kind
* Please, see meaning of pot.
Explanation & Definition: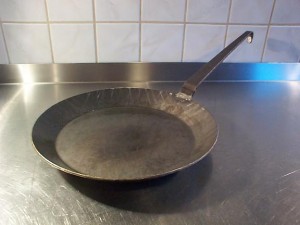 Short explanation
A long-handled, shallow pan used for frying food.
Complete definition
A frying pan, frypan, or skillet is a flat-bottomed pan used for frying, searing, and browning foods. It is typically 200 to 300 mm (8 to 12 in) in diameter with relatively low sides that flare outwards, a long handle, and no lid. Larger pans may have a small grab handle opposite the main handle. A pan of similar dimensions, but with vertical sides and often with a lid, is called a sauté pan or sauté. While a sauté pan can be used like a frying pan, it is designed for lower heat cooking methods such as sautéing.
Synonyms of frying pan
noun: pan, skillet, griddle; plural: pans, skillets, griddles; related terms: skillet, electric frying pan, handgrip, handle, grip, hold, cooking pan, spider.