Association:
– Ride on the waves of emotions.
Question:
– Which strong emotions I'm ready to enjoy?
In general:
Surfing as dream symbol stand for control of dreamer emotions, because dreamer is driving on the water. At the same time while surfing the right utilization of the wind important, which shows that the mastery of emotions is tempted by dreamer's intellect. Often big role plays in the interpretation of this dream symbol the color of the sail.
Psychologically:
Surfing is also a symbol for euphoric experiences in which water plays a supporting role.
Traditionally:
European
– To surf in dream without accident: your are ready to accept new experiences;
– To fall of from surfboard in dream: your emotions is not stable right now.
Hindu
– Nothing about surfing in hindu culture.
Arabian
– None interpretation of surfing in dreams from arabic and islamic cultures.
* Please, see meaning of water.
Explanation & Definition: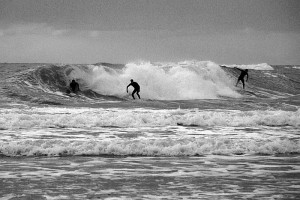 Short explanation
Surfing is the sport of being carried to the shore on the crest of large waves while standing or lying on a surfboard.
Complete definition
Surfing is a surface water sport in which a person (the surfer) or people, rides an object, usually a board (the surfboard), on the crest of a wave usually carrying the surfer towards the shore.
Synonyms of surfing
noun: surfriding, surf-riding; relate terms: surf, surf-board, wave riding.