Traditionally:
European
– To see toothbrushes or to use toothbrush in dream: clean up your own affairs.
Explanation & Definition: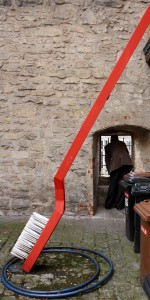 The toothbrush is an oral hygiene instrument. The toothbrush used to clean the teeth and gums that consists of a head of tightly clustered bristles mounted on a handle, which facilitates the cleansing of hard-to-reach areas of the mouth. Toothpaste is commonly used in conjunction with a toothbrush to increase the effectiveness of toothbrushing.