Psychological Meanings:
The dream symbol of Aphrodite denotes the desire for spiritual fulfillment and feminine beauty. This dream indicates that you desire to be beautiful not only with your appearance but also to show your inner world beauty. Perhaps you desire to become more intelligent and wiser personality.
* Please, see meaning of gods.
Definition of Aphrodite: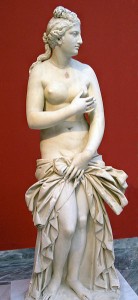 Short explanation
The goddess of beauty, fertility, and sexual love. She is variously described as the daughter of Zeus and Dione, or as being born from the sea.
Synonyms of Aphrodite
noun: Cytherea.