Psychologically:
They are considered a symbol of freedom – who she can move around freely depart, may, whenever and wherever he wants. The loss of car keys dreamed symbolizes the missed opportunity to achieve something, a missed opportunity – a compulsion to be seen or a constricting situation to endure.
* Please, see meaning of key.
Explanation & Definition: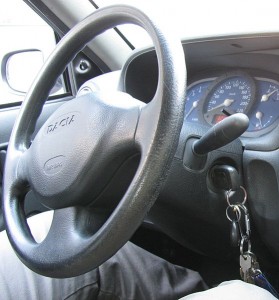 Short explanation
An unlocking device for the ignition switch, doors, trunk, gas cap, etc.
Complete definition
A car key or an automobile key is a key used to open or to start an automobile, or both. Modern key designs are usually symmetrical, and some use grooves on both sides, rather than a cut edge, to actuate the lock. It has multiple uses for the automobile with which it was sold. A car key can open the doors, as well as start the ignition, open the glove compartment and also open the trunk (boot) of the car. Some cars come with an additional key known as a valet key that starts the ignition and opens the driver's side door, but prevents the valet from gaining access to valuables that are located in the trunk or the glove box. Some valet keys, particularly those to high-performance vehicles, go so far as to restrict the engine's power output to prevent joyriding. Recently, features such as coded immobilizers have been implemented in newer vehicles. More sophisticated systems make ignition dependent on electronic devices, rather than the mechanical keyswitch.
Synonyms of car key
– .