In general:
To dream that you play with dice means that in awaking life you play with fate or to perceive opportunities in life, previously necessarily careful should be reconsidered. Dice (or cubes) by old dream book announces bright future full of happiness.
Psychologically:
The dice has a square shape and is therefore, understood as the square itself, as a whole symbol. The number four, for the shape of the square plays a role, depicts the female power in man, which he often is not aware of. The dice (cube) is a spatially extended square. Thus, the properties of the square in the dice are extended even more dynamic, because he has to do with the game, with the uncertainty of how the dice (destiny) will fall. This case is important, what number was thrown. If in a dream other person roll dice than the dreamer, then he puts his fate in the hands of others and is therefore forced to align his life according to their specifications.
Spiritually:
A dice represents a special opportunity in the spiritual level. But this opportunity can be irrevocable.
Traditionally:
Arabian
– To throw or to see how someone else throwing: the happiness will show to you its temper; Also: you will have financial loss through a false, clumsy tactics;
– To see dice: you will be jealous to the happiness of others.
European
– To participate in a dice game: a sure sign of a reversal of fortune.
Hindu
– To see: stay away from bad company, you live in rigidly ordered conditions;
– To have dice in hand or in pocket: you'll make your fortune soon;
– To play with it: bad time, inflation;
– To win in dice game: hostility, disputes.
Artemidoros:
The dice game means, that someone have quarreling about money. Winning in dice game always brings happiness. Dreams of a sick man, that he played with dice (or stones) or he sees someone else is playing, so this is a bad sign, especially if he loses himself, because the loser is always a minority of eyes behind. To see a child playing with dice, mean no harm.
* Please, see also house, cube, square, numbers and relevant number.
Explanation & Definition: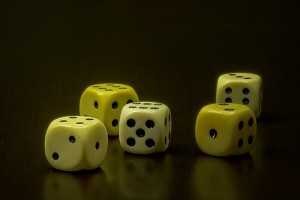 Short explanation
A cube with each side having a different number of spots on it, ranging from 1 to 6. Thrown and used in gambling and other games.
Complete definition
A die (plural dice, from Old French dé, from Latin datum "something which is given or played") is a small throwable object with multiple resting attitudes, used for generating random numbers or other symbols. This makes dice suitable as gambling devices, especially for craps or sic bo, or for use in non-gambling tabletop games.
A traditional die is a cube (often with corners slightly rounded), with each of its six faces showing a different number. The design as a whole is aimed at each die providing one randomly determined integer, in the range from one to six, with each of those values being equally likely.
More generally, a variety of similar devices are often described as dice. Such specialized dice may have polyhedral or irregular shapes, and may have faces marked with various symbols instead of numbers. They may be used to produce random results other than one through six. There are also "loaded" or "crooked" dice, designed to favor some results over others, for purposes of deception or amusement.
Synonyms of dice
noun: die, cube, ivory, bone; plural: bones, ivories, dies, dice, cubes; dice as verb: dices – 3rd person singular present; diced – past participle; dicing – present participle; diced – past tense.