Medicine Wheel:
Keywords
discharge; blood sucking parasite.
Description
A tick is a wingless insect, that sucks blood from animals and humans.
General meaning
Something that has affected your life essence or drained you up.
Association
A carrier of dangerous diseases.
Transcendent meaning
A warning of something that eats you during the dream state.
Traditionally:
European
– To see tick crawling over the skin: you have to pay more attention to your health and sometimes it means quick trip to a hospital bed;
– To crush tick in dream: one feels that a treacherous enemy is near;
– To see big ticks on animals: enemies are by all eager to take a possession.
Explanation & Definition: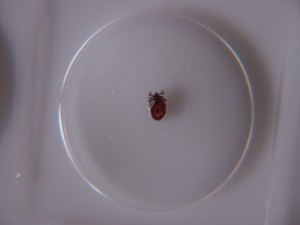 Ticks are parasits, that attaches themselfs to the skin of a terrestrial vertebrate from which they sucks blood. Tick is the common name for the small arachnids in superfamily Ixodoidea that, along with other mites, constitute the Acarina. Ticks are ectoparasites (external parasites), living by hematophagy on the blood of mammals, birds, and occasionally reptiles and amphibians. Ticks are vectors of a number of diseases, including Lyme disease, Q fever (rare; more commonly transmitted by infected excreta), Colorado tick fever, tularemia, tick-borne relapsing fever, babesiosis, ehrlichiosis and tick-borne meningoencephalitis, as well as anaplasmosis in cattle and canine jaundice.