In general:
Toothpicks can promise a financial profit; used it himself, but one must expect to lose.
Traditionally:
Arabian
– To see toothpick in dream: troubles at home.
European
– Toothpicks in dream: indicates that dreamer can easily get rid of an inconvenience;
– To see: promises financial relief;
– To use toothpick in dream: you will have to financially bite into the bullet; Also: you will be involved at a injustice, what is done to a friend.
Hindu
– To dream tootpick: you will have the financial loss.
Explanation & Definition: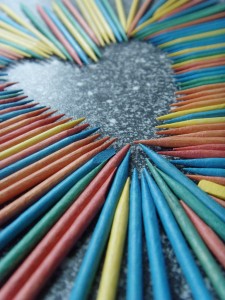 A toothpick is a small stick of wood, plastic, bamboo, metal, bone or other substance used to remove detritus from the teeth, usually after a meal. A toothpick usually has one or two sharp ends to insert between teeth. They can also be used for picking up small appetizers (like cheese cubes or olives) or as a cocktail stick.
Synonyms: noun: quill; plural: toothpicks, quills.