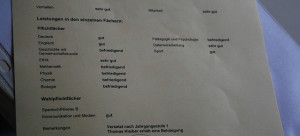 In general:
Report card often announces the test. If in a dream report card's results is good, you will survive test. But if you have seen bad report card – chances to succeed in test is lower. If you are parent, then this dream often indicates the educational mistakes of the childrens.
Psychologically:
A well-known symbol for the fear of failure, and also as punishment symbol.
Traditionally:
European
– if good report card is obtained: a painful affair is settled to their own detriment; if it is bad: the execution of an embarrassing affair will run rates;
– To give away: you will be forced, not quite stick to the truth.
– To read: you are open and honest and will continue to come by;
– To get: you'll get to hear the truth;
– To issue: you will meet new friends.
* Report cards also may refer to evidence, testimony, witness, school report, reports, mark, grade, character, reference, certificate, testimonial, qualification…
* A "Report Card" communicates a student's performance. In most places, the report card is issued by the school to the student or the student's parents twice or four times yearly. A typical report card uses a grading scale to determine the quality of a student's school work. Throughout North America, the grading scale consists of grades scored in classes taken by the student.