General Meanings:
Many people find vulture as an unpleasant animal, colloquially this word also used for greedy people. In Indian dream interpretations vultures are just the opposite interpreted as symbols for benevolent people who support own intentions. This other meaning is probably due to the fact that the vultures were respected and considered in India as useful "health police". In general, the first unfavorable meaning applies for us.
Traditional Meanings:
European (Judeo-Christian)
Watch out for enemies if see – When a vulture appears together with carrion, its can be a warning that you will meet jealous people who want to prevent the plans or want to enrich themselves.
Hindu (Hinduism)
Good people around you If flying around – In the dream you see a vulture which is flying around, this denotes that you have good people around you and everything is going to be just fine, your desires will fulfill.
Definition of Vulture: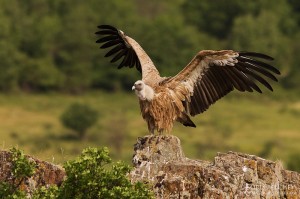 Short definition
A type of large bird of prey feeding chiefly on dead bodies.
Complete definition
Any of various large birds of prey of the New World family Cathartidae or of the Old World family Accipitridae, that are related to the hawks, eagles, and falcons but have weaker claws and the head usually naked. This helps to keep the head clean when feeding. Research has shown that the bare skin may play an important role in thermoregulation of this bird. A group of vultures is called a wake, committee, venue, kettle, or volt. The term kettle refers to vultures in flight, while committee, volt, and venue refer to vultures resting in trees.
Synonyms of Vulture
noun: bloodsucker, buzzard, harpy, kite, shark, vampire, predator, wolf; plural: bloodsuckers, buzzards, harpys, kites, sharks, vampires, predators, wolfs; related terms: bird of prey, raptor, raptorial bird, Old World vulture , New World vulture, cathartid.